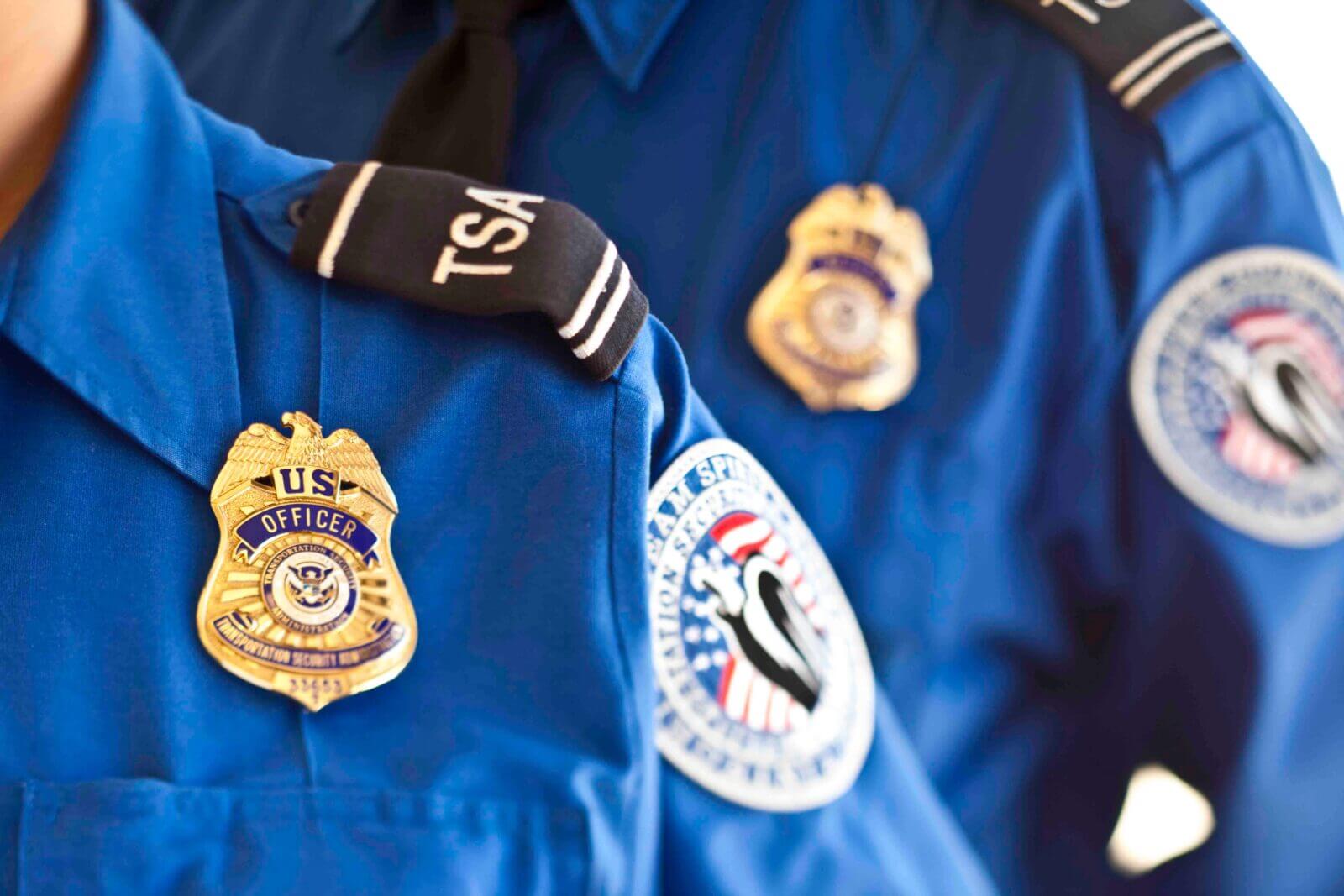 Know that whenever you travel through Reno-Tahoe International Airport (RNO), you can feel safe. Our friendly and supportive staff is here to help you whether you are a frequent flyer or a first-timer. If you need assistance in any way, don't hesitate to connect with our staff while you're at the airport.
Here are some additional security resources available:
In case of a medical emergency, call 9-1-1.
Report suspicious activity or unattended items immediately to Airport Communications at 775-328-6999 or any available airport personnel.
Travel Tips
Security Checkpoint & TSA
The Transportation Security Administration (TSA) is responsible for managing and operating the passenger security screening checkpoints at all U.S. airports. TSA officials receive thorough safety and sensitivity training to ensure every passenger is respectfully screened. Please cooperate during the screening process to avoid delay.
RNO has one security checkpoint located on the first floor of the terminal building. Any questions regarding TSA should be directed to the TSA at 702-577-9421. You can also reach them on Twitter and Instagram, @TSA (They're pretty funny), or by visiting the TSA website directly.
What time does the TSA Security Checkpoint open?

The security checkpoint is open and operational an hour to 90 minutes before the first departing flight of the day, typically around 4:00 a.m. Security checkpoint hours are subject to change. The RNO terminal is open and operational 24 hours, 7 days a week.
What identification do I need to bring?

Identification
All passengers (age 18 years and older) must present their government-issued photo ID—such as a driver's license or passport—to the TSA checkpoint staff as they pass through the security checkpoint.

Please note: Beginning May 7, 2025, if you plan to use your state-issued ID or license to fly within the U.S., make sure it is REAL ID compliant.
Nevada Real ID Information
TSA Real ID Information

Boarding Passes
TSA at RNO uses credential authentication technology (CAT). CAT is linked electronically to the Secure Flight database, which confirms travelers' flight details, ensuring they are ticketed for travel that day. CAT also displays any pre-screening statuses (like TSA PreCheck®) that the traveler is eligible for.

While boarding passes may not be required during TSA checkpoint screenings at RNO due to our CAT tech, it's always good to have your boarding pass handy, whether that's a printed version or one that lives on your phone or phone's digital wallet. Passengers still need to check in with their airline and will need a mobile or printed boarding pass to show the airline representative at their gate as they board their flight.

You can get a boarding pass at RNO in a number of different ways:

Download a mobile boarding pass directly to your phone through your airline.
Print your boarding pass at your airline's ticket counter.
Print your boarding pass at one of your airline's self-service ticket kiosks.
Print your boarding pass at a curbside check-in station (these are only available through American Airlines and Southwest Airlines).
What Does TSA Screen For?

You may have heard that the TSA has a passion for prohibited items—but there are a few they'll let you bring on board! (Within reason, of course.)

Liquids
You're allowed to bring a quart-sized bag of liquids, aerosols, gels, creams, and pastes in your carry-on bag and through the checkpoint. Only one bag is allowed per passenger, and all products must be placed in a clear, quart-sized Ziploc bag.

Please follow TSA's 3-1-1 liquid rule for carry-on luggage:

3.4 ounces (100 milliliters) or less per item
1 quart-sized bag
1 bag per passenger

Any containers that are larger than 3.4 ounces, regardless of the amount inside, must be in checked baggage. Exemptions to this rule include medications and infant and child nourishments.

Learn more: https://www.tsa.gov/travel/security-screening/liquids-rule 

Firearms
Federal law prohibits the transportation of firearms and/or ammunition in carry-on baggage.

For passengers looking to travel with/or to transport firearms through RNO, there are strict regulations that you need to know before attempting to do so.

Please check TSA's rules and regulations regarding the transport of firearms before you come to the airport.

Learn More: https://www.tsa.gov/travel/transporting-firearms-and-ammunition

Medical Marijuana
Federal law prohibits the transportation of recreational marijuana.

For passengers looking to travel with medical marijuana through RNO, there are strict regulations in place that you should review before traveling through the airport.

Please check TSA's rules and regulations regarding medical marijuana before you come to the airport.

Learn More: https://www.tsa.gov/travel/security-screening/whatcanibring/items/medical-marijuana
What is TSA PreCheck®?

No need to remove shoes, belts, 3-1-1 liquids, laptops, or jackets—TSA Pre-Check® is an expedited screening program that allows frequent travelers to experience a smoother screening process, in fact, 94% of TSA PreCheck® passengers wait less than 5 minutes!

You can find the TSA PreCheck® Enrollment Center in the main terminal between baggage claim and Mari Chuy's Mexican Kitchen. The TSA PreCheck® Enrollment Center is open:

Monday, Wednesday and Friday, 7:30 a.m. to 4:30 p.m. Hours of operation may vary and are subject to change.
Although walk-ins are welcome, we encourage you to check available hours or pre-enroll on www.identogo.com/precheck.

If you're enrolling and are a U.S. citizen or permanent U.S. resident, you can apply online, pre-enroll, and set up an appointment to visit the enrollment center at RNO.

Note: RNO does not have a Global Entry enrollment office. The nearest offices are located in Los Angeles, Las Vegas, Portland, San Francisco, and Salt Lake City. Learn more about Global Entry.
Who Qualifies for Non-Passenger Escort Passes?

Currently, due to TSA directives, only ticketed customers can access areas beyond the security checkpoint, but Security Documents or Non-Passenger Escort (NPE) passes may be given to someone who is meeting or escorting. A few examples of these are as follows:

An unaccompanied minor (children ages 5-11 years old who are traveling alone).
A person with a disability.
Young travelers under the age of 18 years old.
Family members of U.S. military service members (either arriving or departing) who have been deployed or are being deployed.

If you have a legitimate need for an NPE pass, you can request one from your airline ticketing agent. If NPE passes aren't available, unaccompanied minors will be escorted by an RNO employee to their parent or guardian at a convenient location in a non-secured public area—like the bottom of the arrival escalator—which is located immediately outside of the security checkpoint.
The Reno-Tahoe Airport Police Department and security oversee the safety of RNO, its employees, and the traveling public.

The Reno-Tahoe Airport Fire Department responds to medical emergencies as well as fires, fuel spills, and other disasters.

RNO is still hard at work to move you safely, continuing with increased health and safety measures throughout the airport and our airlines. 
RNO is a Designated SafePlace Site
We're a safe place.
And we want to help. Every airport employee receives training through a human trafficking training program in partnership with Reno's Safe Place agency and The Children's Cabinet. RNO is ready and alert, willing to assist our youth in need, whether they are running from an abusive home or trying to escape a human trafficking situation.
RNO displays the SafePlace logo throughout the airport as a visual cue to those in need, so they know they can seek help and safety by approaching any airport employee—any time, anywhere.